Lunch with the principal is just one of the many PBIS incentives students can earn with tickets for positive behavior. We had so many students this month we had to get creative with our lunch locations.🍎🍕🍪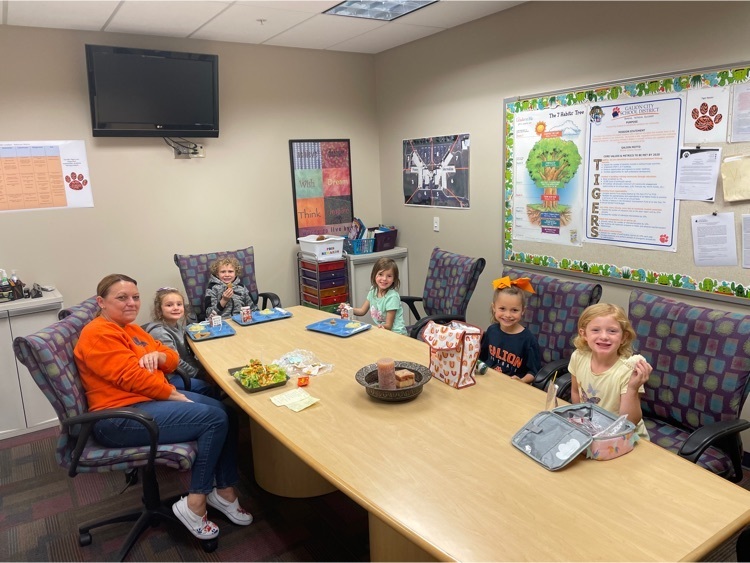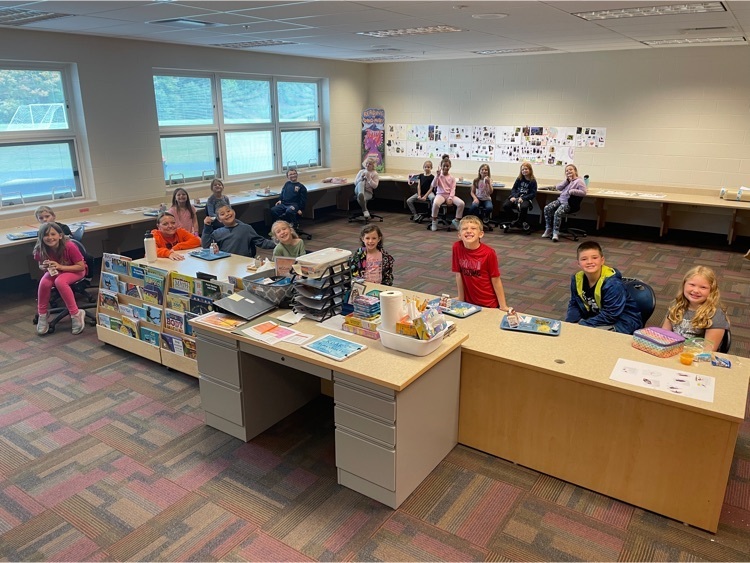 Each Friday in October (7th, 14th, 21st, 28th) students can bring in socks to earn an incentive for our first community service project for the year. If you bring: 1 pair of socks: you can wear a hat on Friday 3 pair of socks: you can wear pajamas on Friday 5 pairs of socks: you can bring in a stuffed animal on Friday The classroom with the most socks donated will receive an ice cream sandwich party! These socks will be donated to the Marion Homeless Shelter.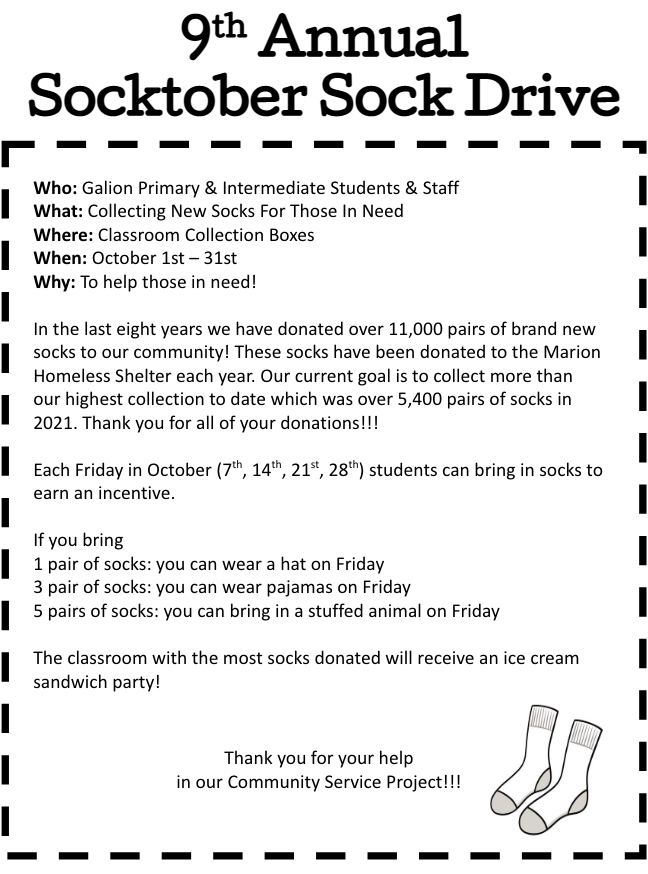 Hope to see you tonight at Elementary Football Night! Tailgate starts at 5 p.m. in the park.
We are currently experiencing an issue with our district phones and internet. We are working to fix the issue.
We are currently experiencing an issue with our district phones and internet. We are working to fix the issue.
Mark your calendars. We hope you join us for Elementary Football Night on Sept. 23rd.
Say Hello Week is next week, Sept. 19th-23rd! We hope you all participate in the weekly dress up activities. Start Hello Week brings attention to the growing epidemic of social isolation and empowers young people to create a culture of inclusion and connectedness within their school and community.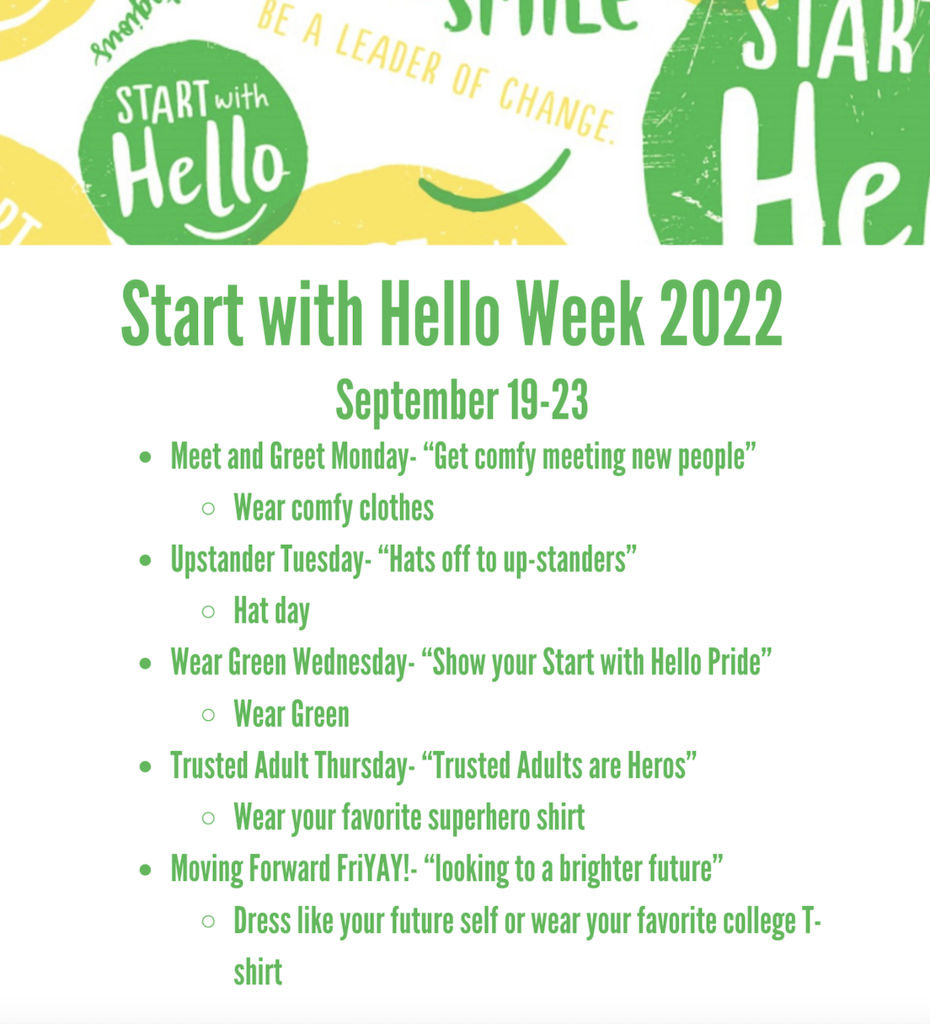 Congratulations to the following students for being selected for last years Art Picture Award. Thank you to the PTO for framing these beautiful pieces of art! Macie Wolfersberger, Kindergarten 2022 Cooper Main, 1st Grade 2022 Quinn Bailey, 2nd Grade 2022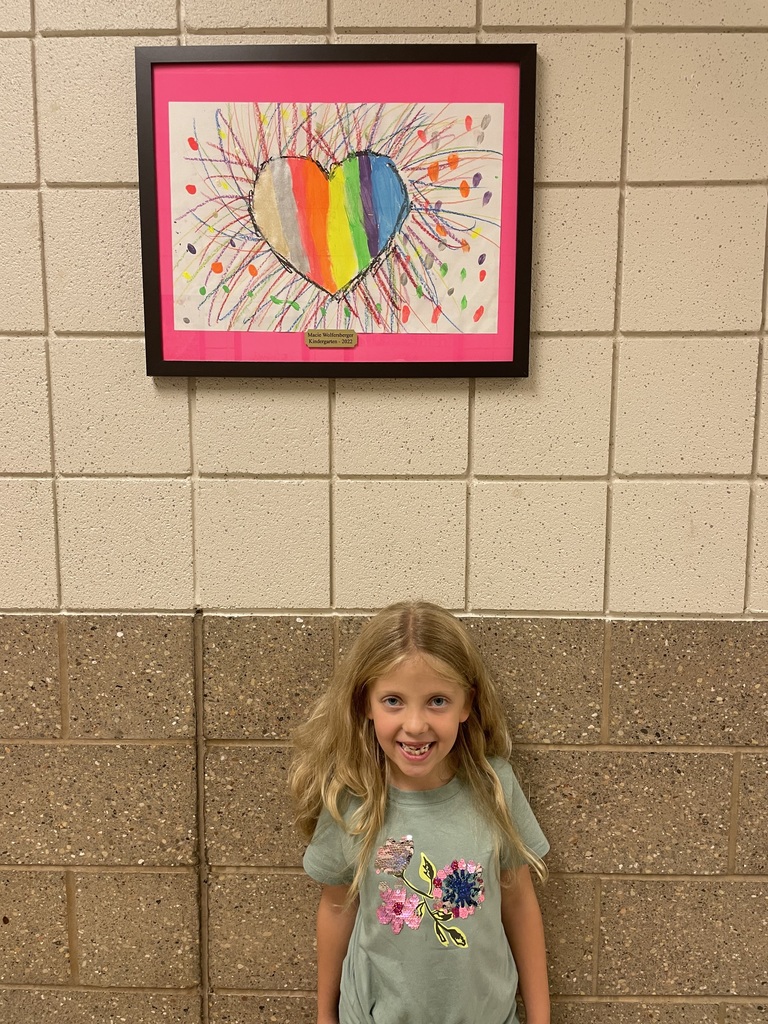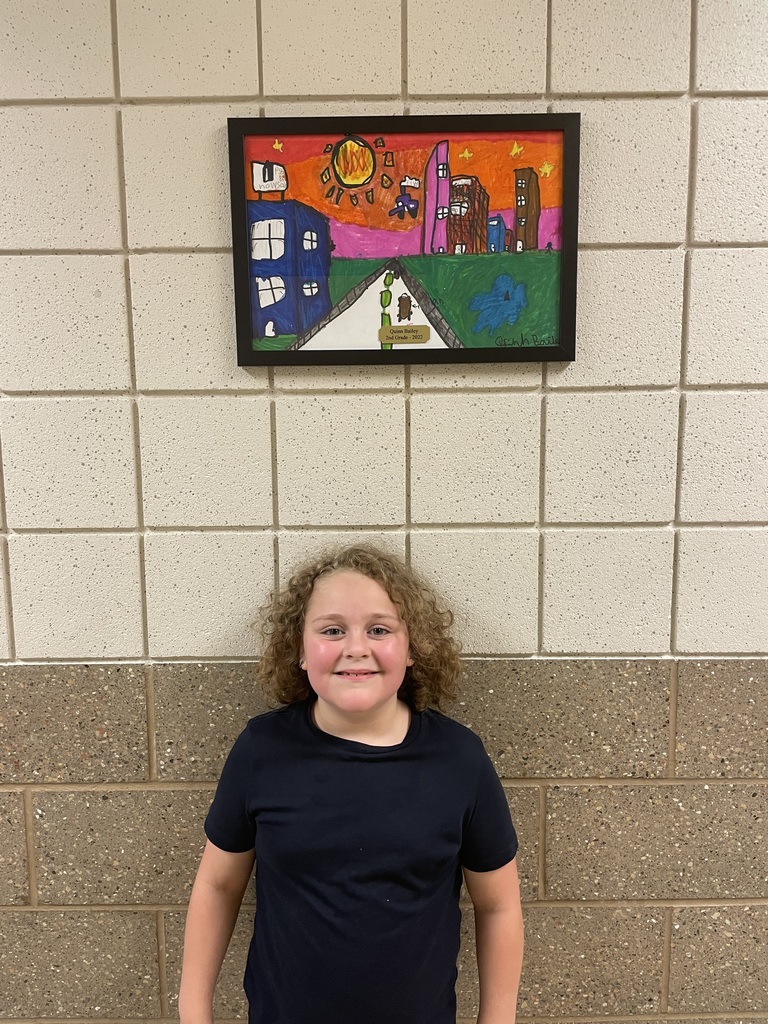 The PTO has framed the yearly student art pictures for each grade level from the 2021-22 school year. These works of art are are now hanging in the hallways of the Primary and Intermediate buildings along with the art from previous years. Congratulations to the following students for having their art work chosen: KG Macie Wolfersberger, 1st Cooper Main, 2nd Quinn Bailey, 3rd Jocelyn Glass, 4th Jaquelyn Young, 5th Addison Parsons. We are looking forward to another great year of Art projects this year.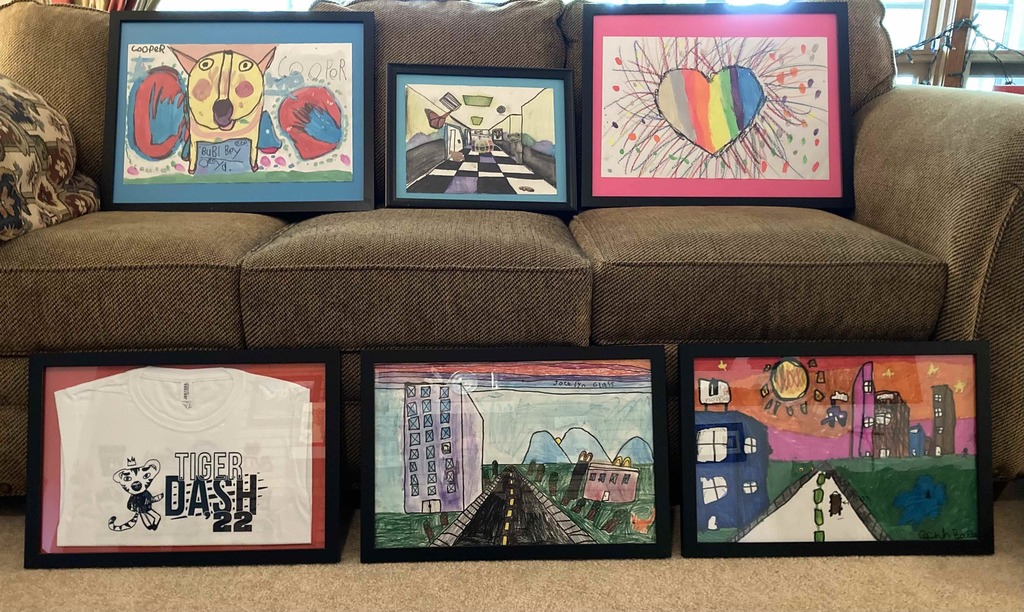 Jeanne Kuns Jeanne has been with the district for 25 years and is the secretary of the Primary building. She loves working with the students, staff, and her family. "I don't know what you would her. She helped me immensely learn the new building last year." -Kayla H. Monica Shifley Monica has been with the district for 22 years and will be retiring at the end of September. We are so thankful for all she has done for Galion City School and wish her a happy retirement! "She was a fun teacher and I learned a lot from her." -Kathryn R. former student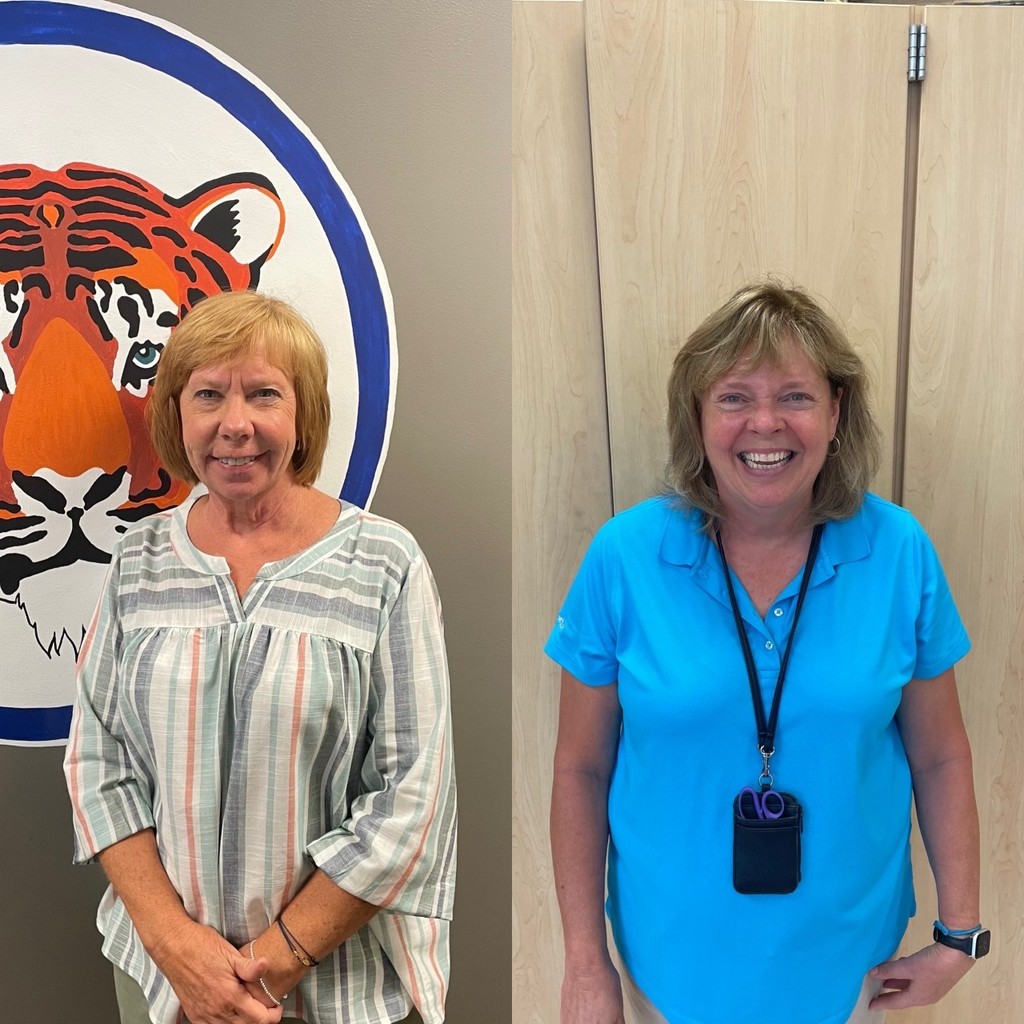 Flyers for our Back Pack Program will be coming home this week. Please return to your classroom teacher if you are interested in participating. This program provides participating students with a small bag filled with child-friendly, shelf stable food for the weekend.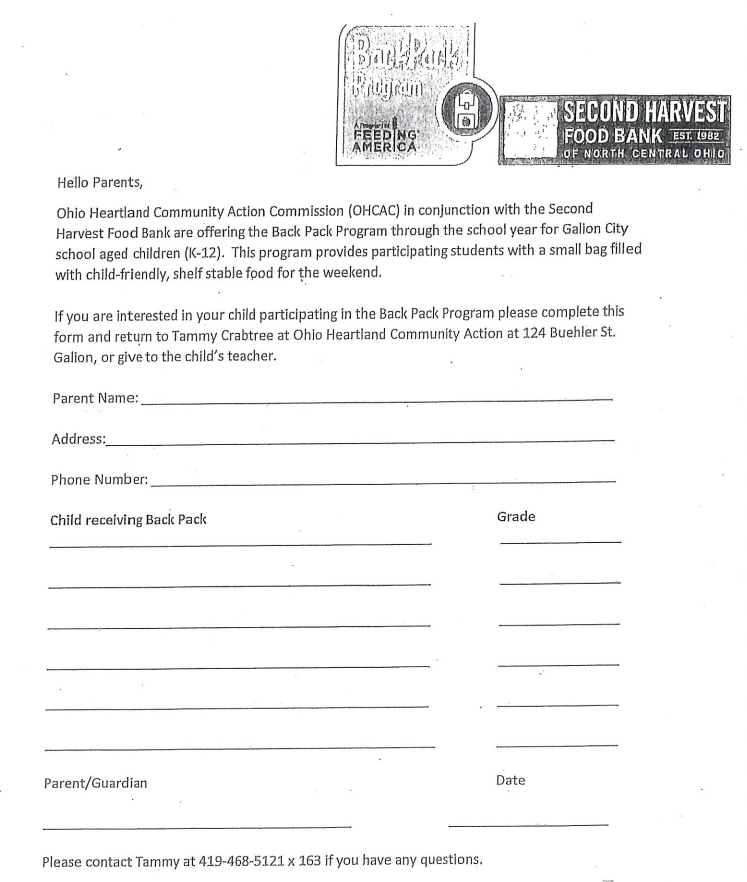 Open House/ Orientation will be from 4-6 p.m. on August 16th. Primary Students can receive popcorn and a slushy after meeting his/her teacher and exploring the Primary School. Please bring all school supplies! We look forward to seeing you there!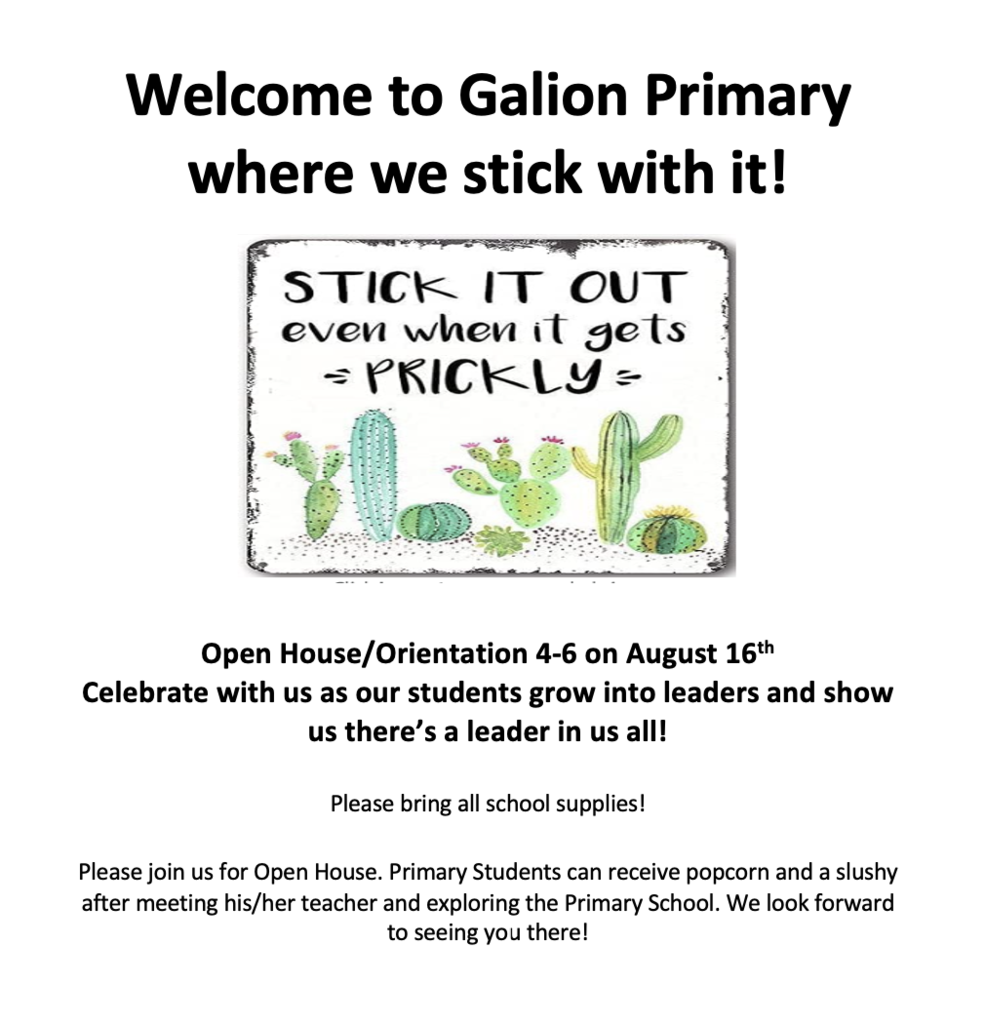 Mark your calendars! The first day of school is August 17th and all buildings will start with a 2-hr delay. Please note that breakfast will not be served on 2-hr delays at the Primary, Intermediate, and Middle School.
Kindergarten screenings will take place at Galion Primary School on August 4 from 9:00-12:00. Call 419-468-3134 to schedule an appointment. Parent/guardian should the following documents: *drivers license or State I.D. and proof of residency *child's birth certificate, shot record *custody papers & IEP (if applicable)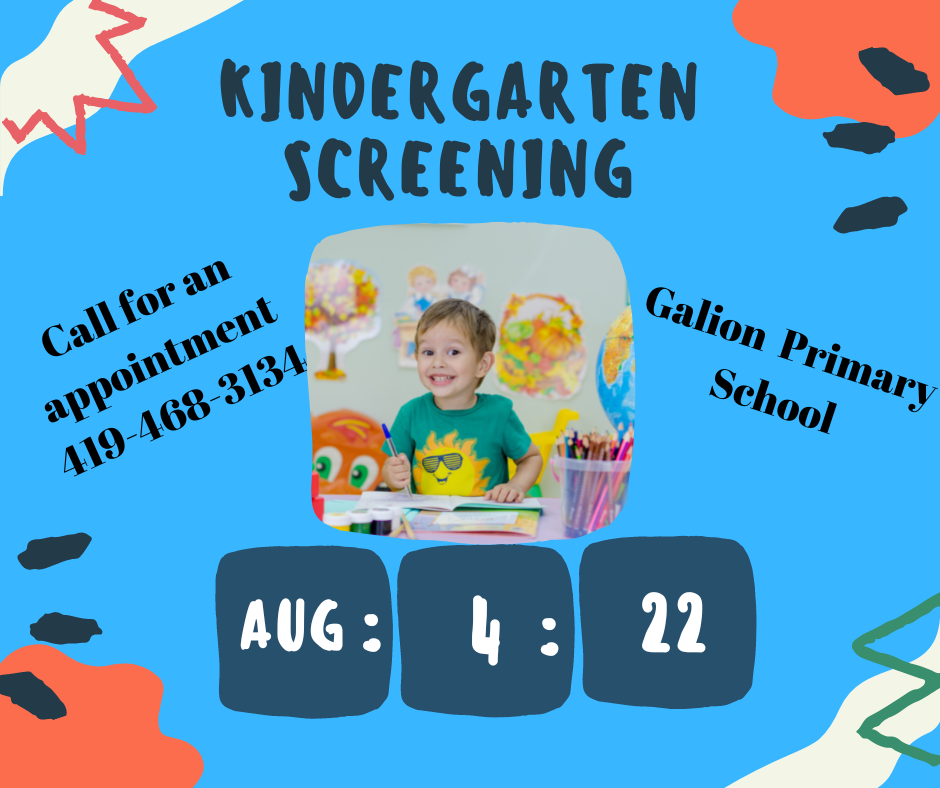 It's that time of year again! Time to get all back to school forms updated and signed. Fall Athletes must have all forms completed and physicals turned in prior to 1st day of official practice. All students in grades 6-12 must have Final Forms signed in order to receive their schedules and iPads. (Dates TBA) Incoming 6th grade students will complete their forms during the first week of school. Questions? Call 419-468-3134 ext 11012
Galion City Schools announces school hours for the 2022-23 Academic Year. More information regarding Open Houses and other events will be posted soon.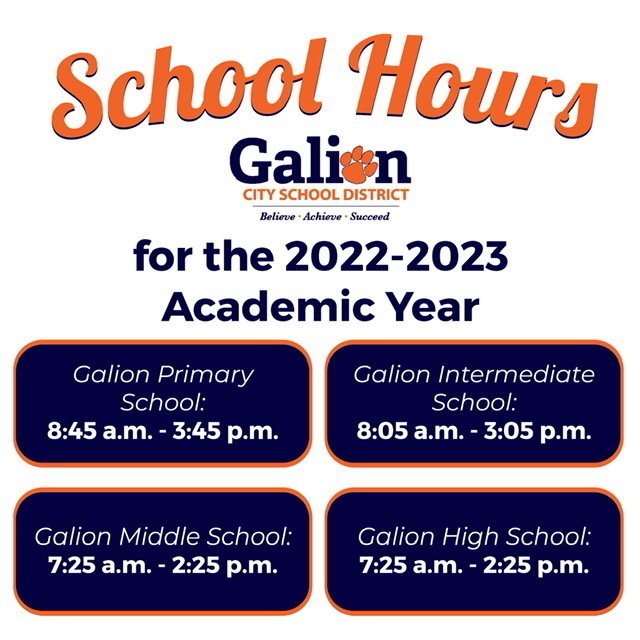 Applications to apply for the Crawford County Job & Family Services Back to School Wear Program are due July 1, 2022. Applications can be picked up at the Job & Family Services office, located at 225 E. Mary St in Bucyrus, or printed off their website at :
https://crawfordcountyjfs.org/prc-net-transportation/
. Applications are also available at the Galion and Crestline libraries. Additionally, Job & Family Services staff will be ON SITE at the Galion, Crestline, and New Washington libraries the week of June 27-July 1 to take applications and answer questions. Dates, times and locations are listed below: - Monday 6/27 - Crestline Library - 1:00-3:30 - Monday 6/27 - New Washington Library- 1:00-3:30 - Tuesday 6/28 - Galion Library - 1:00-3:30 - Thursday 6/30 - Galion Library - 1:00-3:30 - Friday 7/1 - Crestline Library - 1:00-3:30 Please call 419-562-8066 for more information or if you would like Job & Family Services to mail an application to you.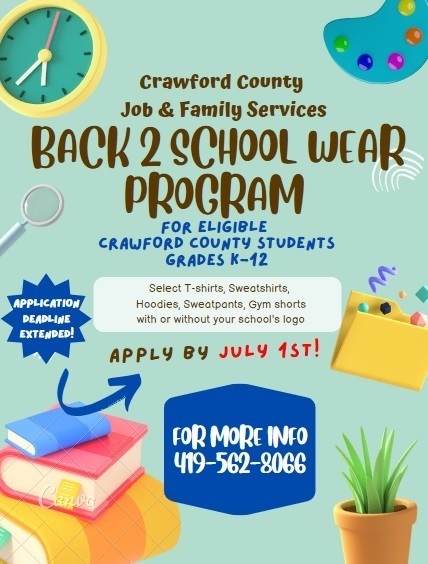 Hey Tigers! Looking to make some extra money this summer? We are looking for summer helps to assist in this summer's cleanup of the buildings! Please contact Mr. Brian Owens at
owens.brian@galionschools.org
for more details and if you're interested in being part of the Summer Tigers Team!