Clothing & Shoe Drive For the month of February, the Galion Primary will be collecting new or gently used clothing and shoes for the school's accident/need totes. We are low in stock in the items below. Items Needed: -Boys coats size 4T-10 -Girls coats size 4T-10 -Girls underwear sizes 4T-10 -Unisex sweatpants size 4T-10 -Boys tennis shoes or boots sizes 10-5 -Girls tennis shoes or boots sizes 10-5 We are also always looking for small toys for our PBIS prize box.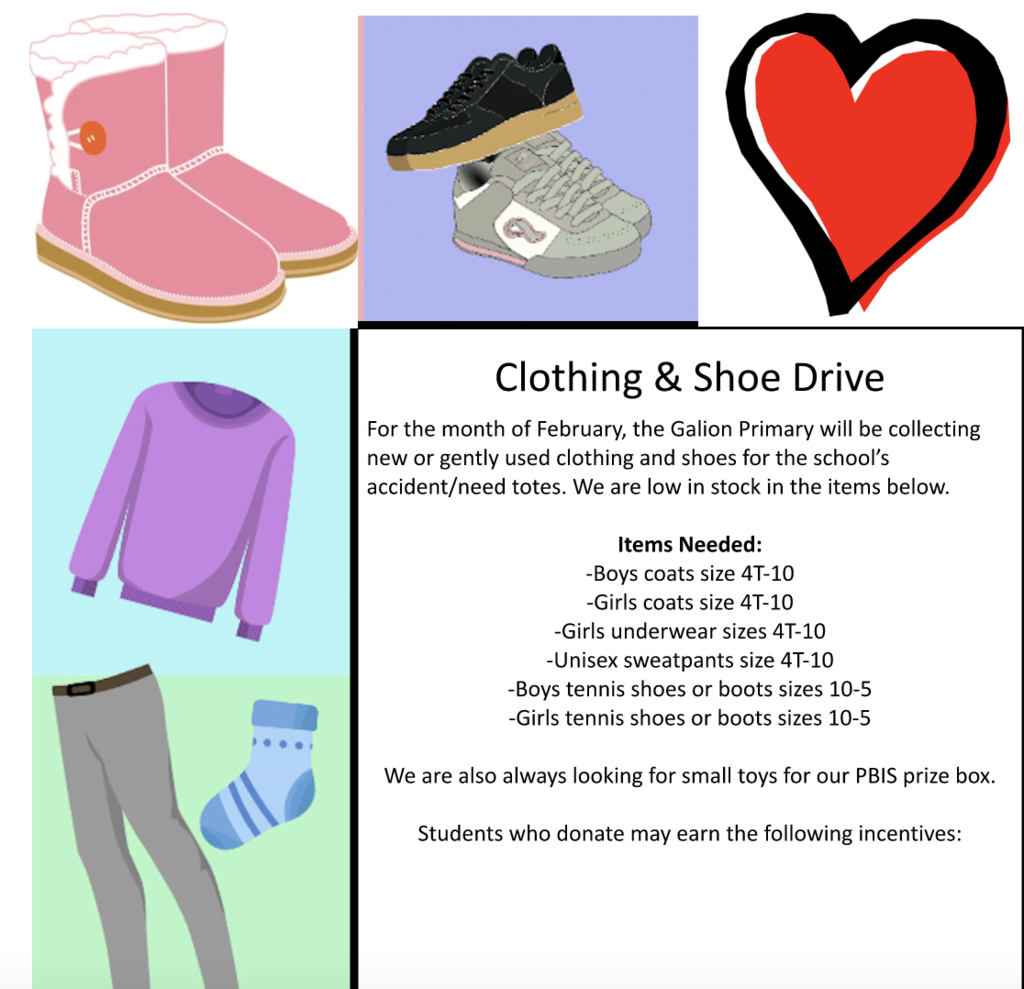 The Galion City Schools will be on a 2-hour delay, Wednesday, January 25, 2023. Please remember on delay days that breakfast will not be served and AM ROAR will not be in session. Stay safe, Tigers!
The PTO is hosting a virtual "Build a Mascot Night" on March 2nd. Order forms and money for the mascots are due this Friday, Jan. 13th. Please see the attached form and turn it into your student's teacher.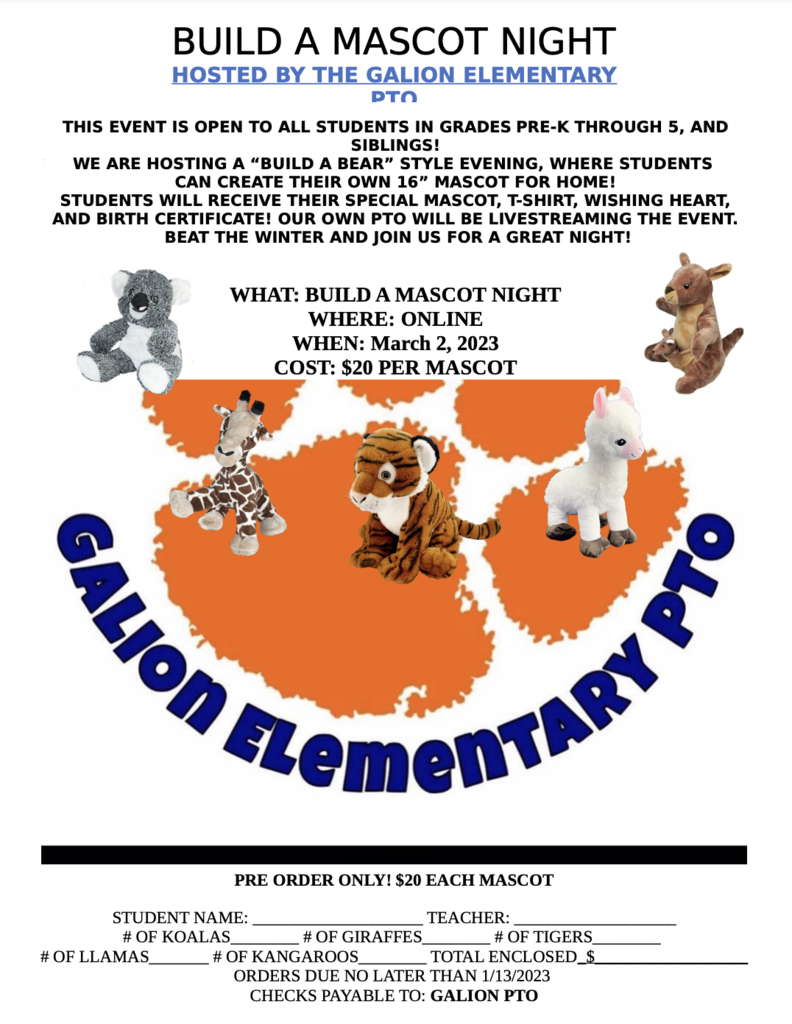 Staff Spotlight Cindy Conner has been with the district for 31 years. She is a 2nd grade teacher and currently serves as the Primary's PBIS tier I coach, Math Team Lead, and is the Galion girls cross country and track coach. She also is involved in the local Girl Scouts chapter. Cindy does so much for our District and its students. Thank you, Cindy, for all that you do! Amy Johnson has been with the district for 21 years as a speech and language pathologist. Amy is amazing with working with our younger students on how they say and put sounds together into words, as well as how they understand what sounds they hear or read. She is helping our students to be able to better communicate, as well as improving the literacy skills. She makes her speech tasks always fun and engaging for our students. Thank you Amy for all that you do!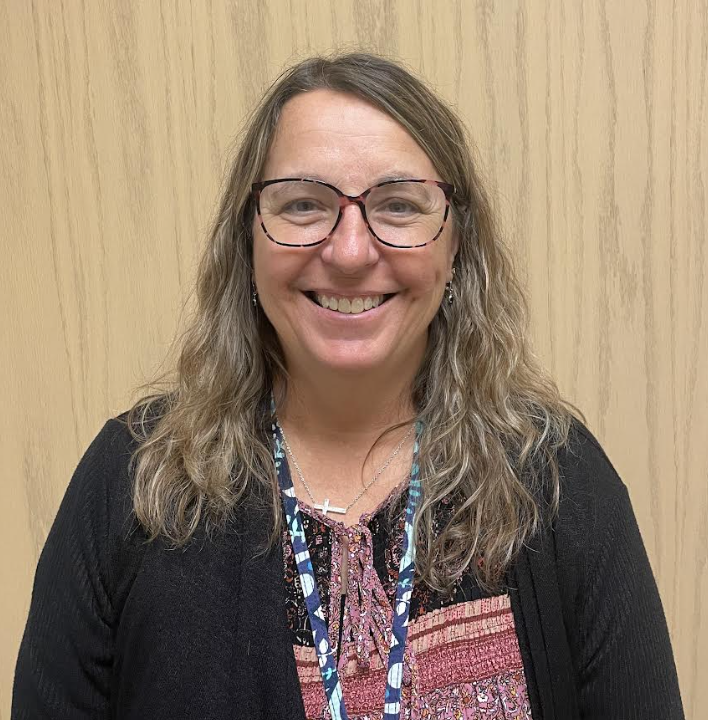 Safety Week was a success! The kids got a visit from the Galion police and fire departments, received a lesson about hand washing and a free toothbrush from Dr. Fellner, and had a lesson about social and emotional wellbeing.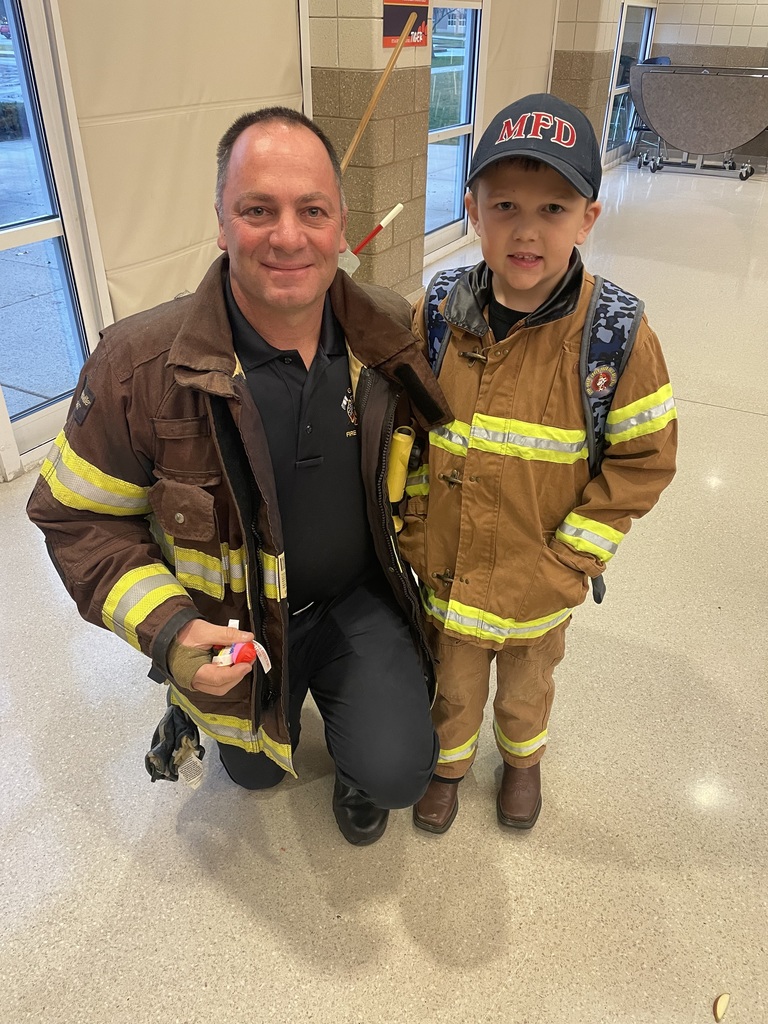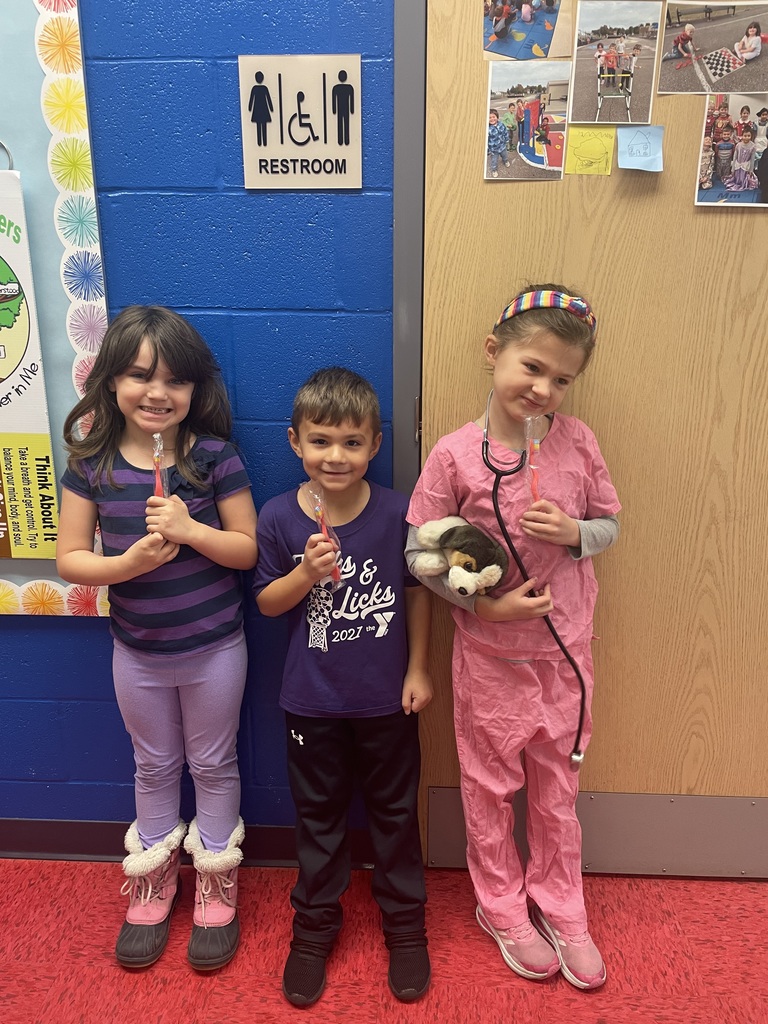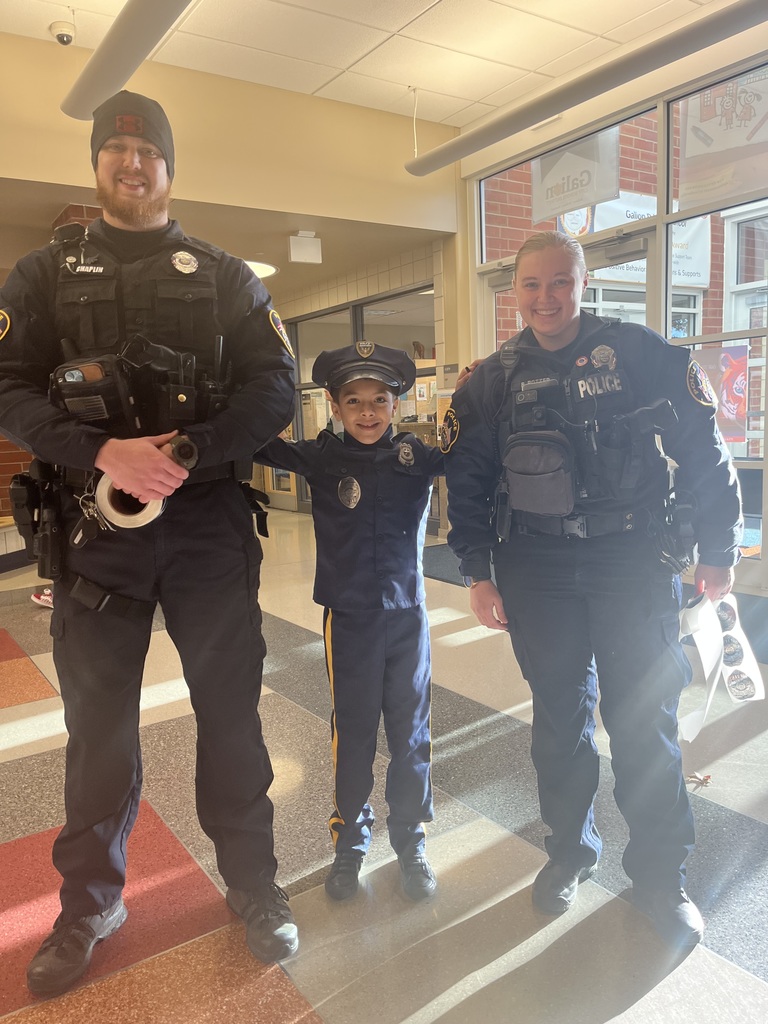 Reminder: We have a 2-hour Early Release on Friday, Dec. 16th.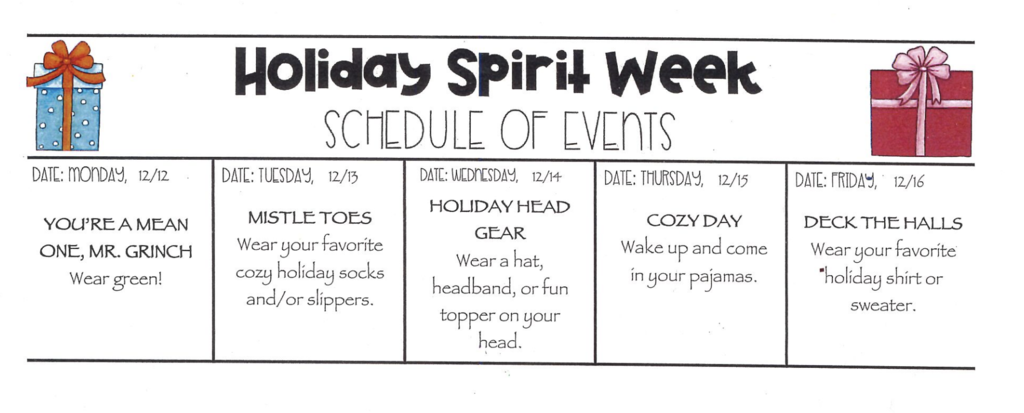 The Primary building will be learning about community helpers in our community next week, Dec. 5-9. Our aim is to create awareness about the role of helpers in our day-to-day life and the importance of creating a safety plan in our homes and at school. We encourage you to dress up and participate in the weekly activities. Please, no toy guns with your costumes.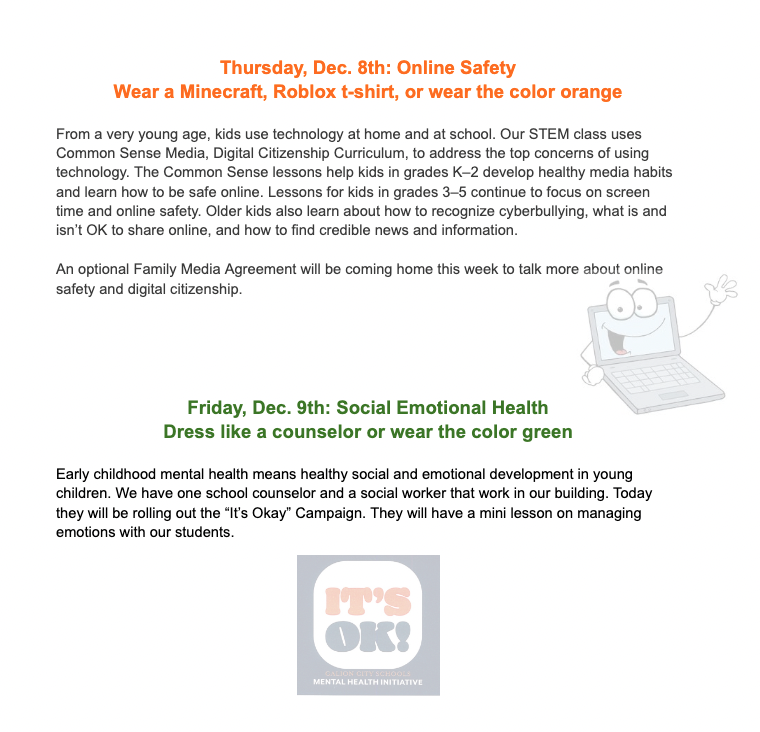 Bob Keys has been with the district for the past eight years as an educational aid in 2nd grade. He is a retired fire chief and enjoys spending time with the students and seeing them grow throughout the year. Nicole Pawsey is not new to teaching but is in her first year at the Galion Primary. She is one of our two new kindergarten teachers this year and we are so fortunate to have her on staff. Nicole enjoys teaching where she grew up and watching her children go through the district. Thank you both for all you do!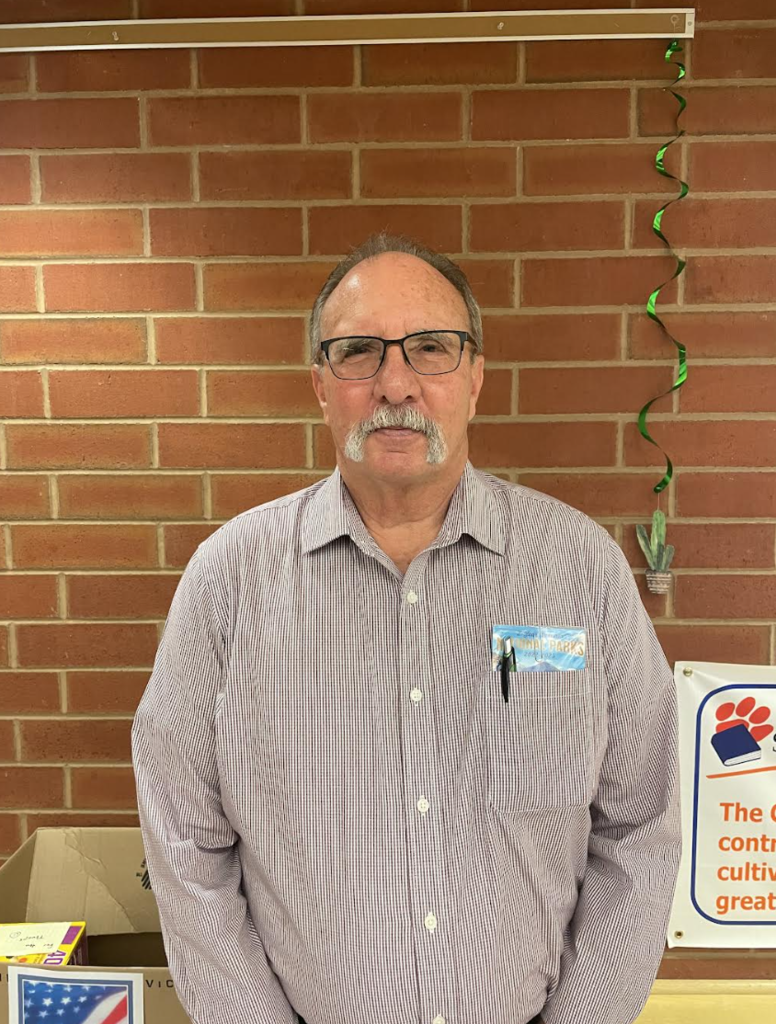 During the month of December, Galion Primary and Galion Intermediate will be conducting a Canned/Boxed Food Drive! Each Friday in December, all students are permitted to bring in canned or boxed food to earn a prize. All canned/boxed goods will be donated to the Food Pantry at Crawford County Community Action.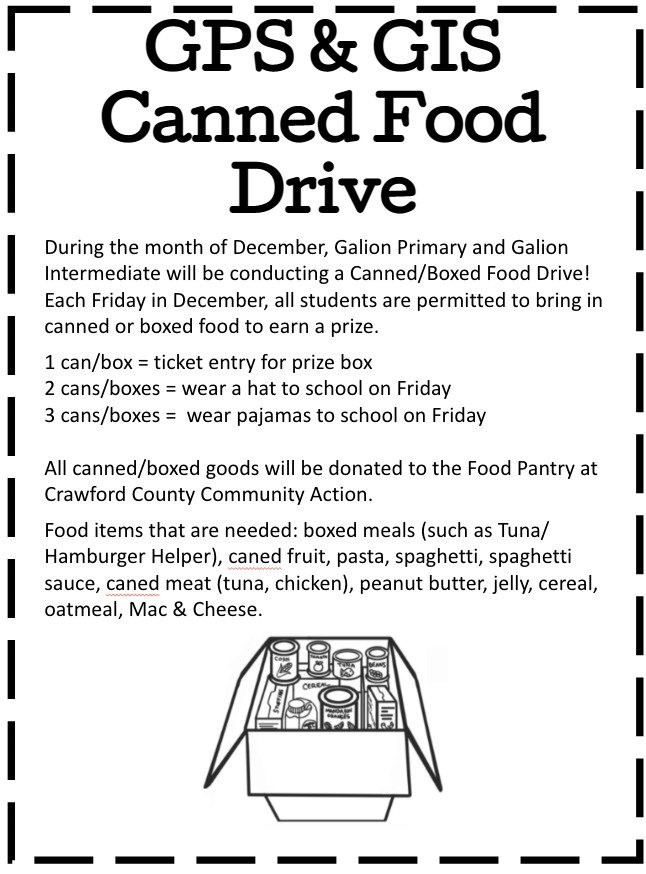 PTOs annual Snowflake Shop will be from Dec. 7th-15th. Please look at scheduled for when your child's class will be going to shop. All gifts are $1, $2, and $3 and a gift list is helpful to fill out when sending money with your student. Flyers and money envelopes will be coming home on Monday, Nov. 28th. PTO is also looking for volunteers to help our little ones shop. If interested please sign up at
http://signup.com/go/SPWftSh
We are so thankful for our teachers and staff! Lets shower our staff with some appreciation next week, Nov. 14th-18th.
Thank you so much for the sock donations! This year we donated 4,115 socks to the Marion Homeless Shelter. We are still collection donations for our Veterans in the month of November. Please consider donating any item from the listen below: Sunflower seeds, hard candy, chapstick, chewing gum, dental floss, drink mixes, foot powder, gloves, hot chocolate, socks, sunblock, dried fruit, granola bars, band-aids, batteries, body wash, q-tips, magazines, washclothes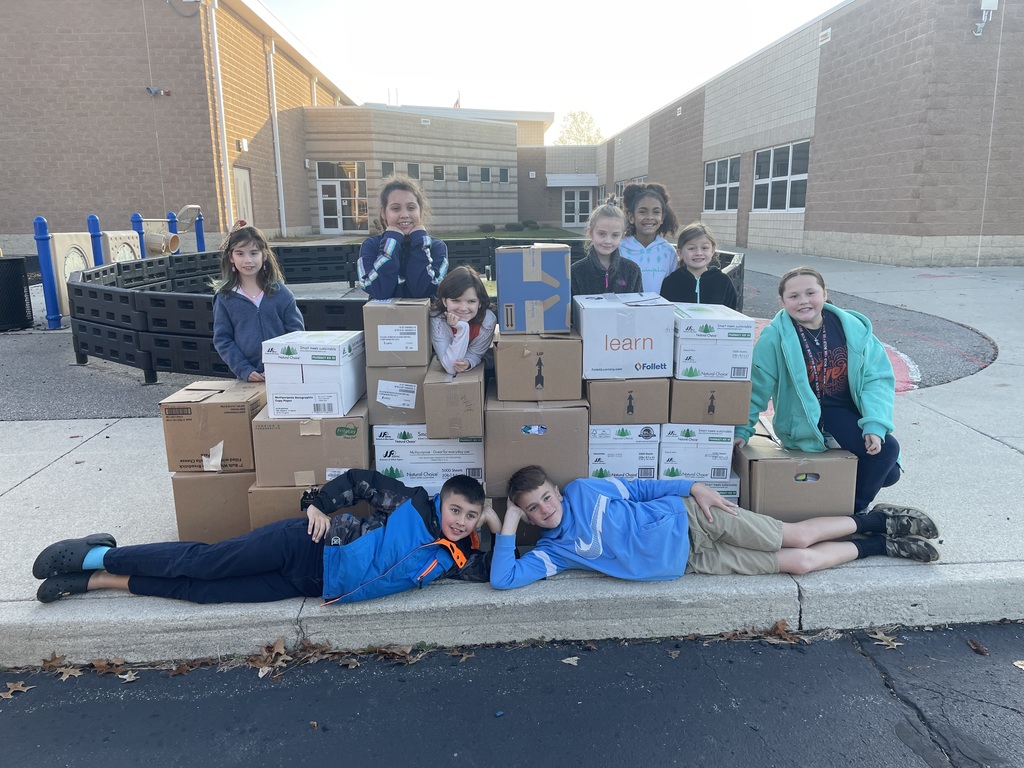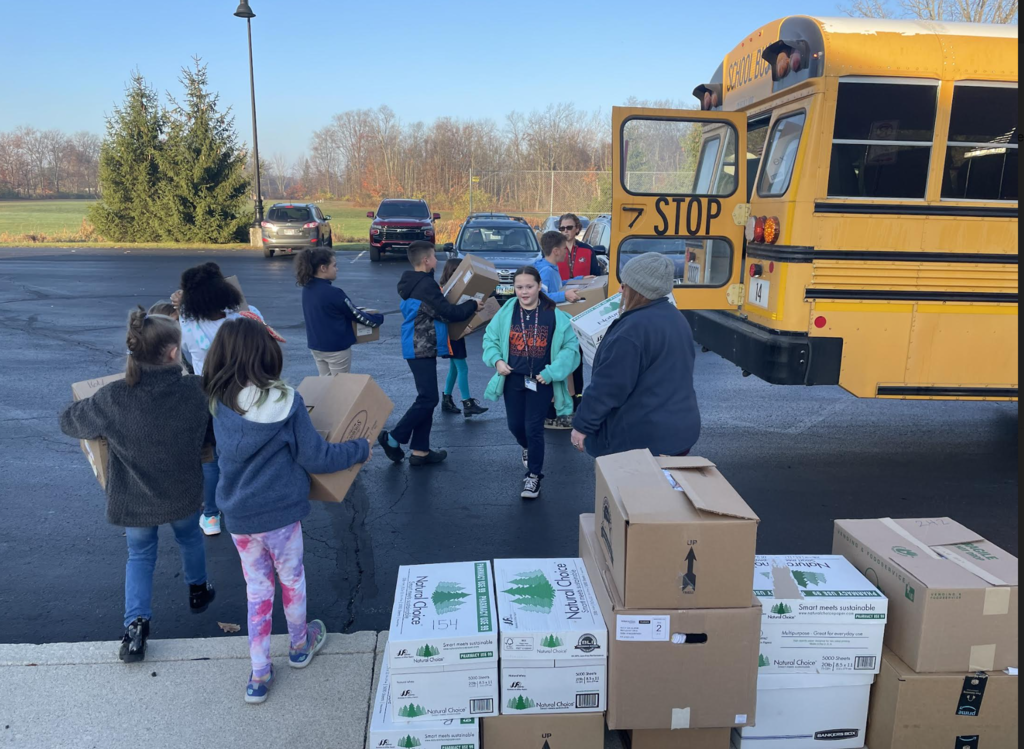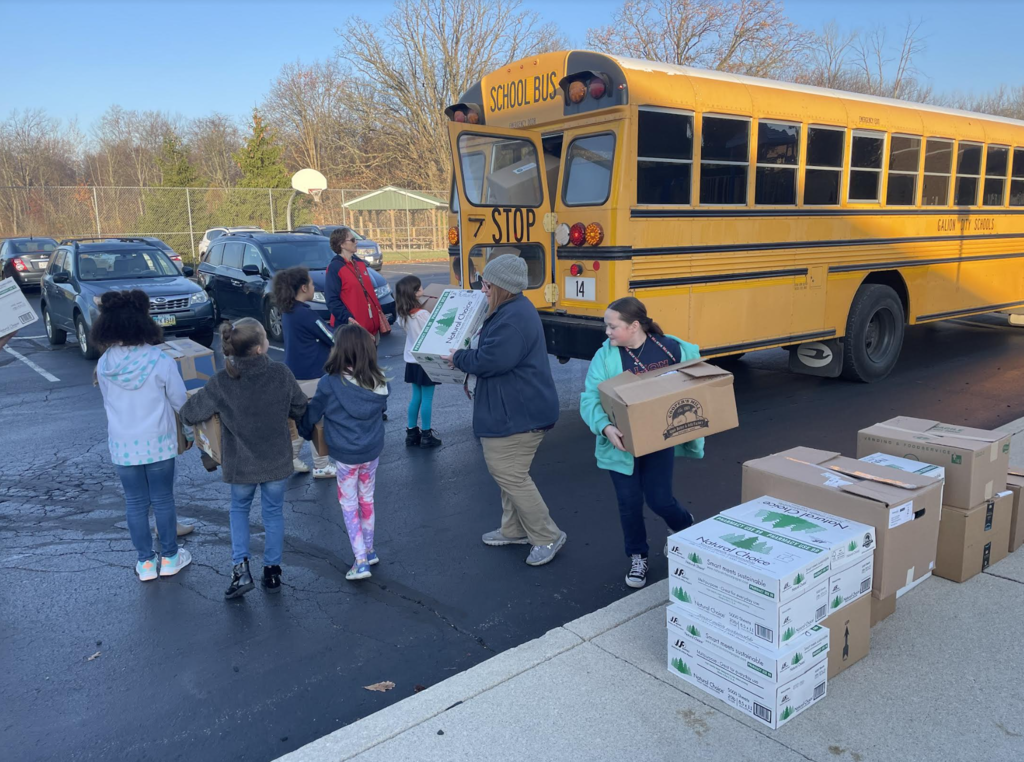 Our community service project for November is to collect items for troops who are deployed. Bring in items listed on the flyer and earn a tickets for PBIS incentives.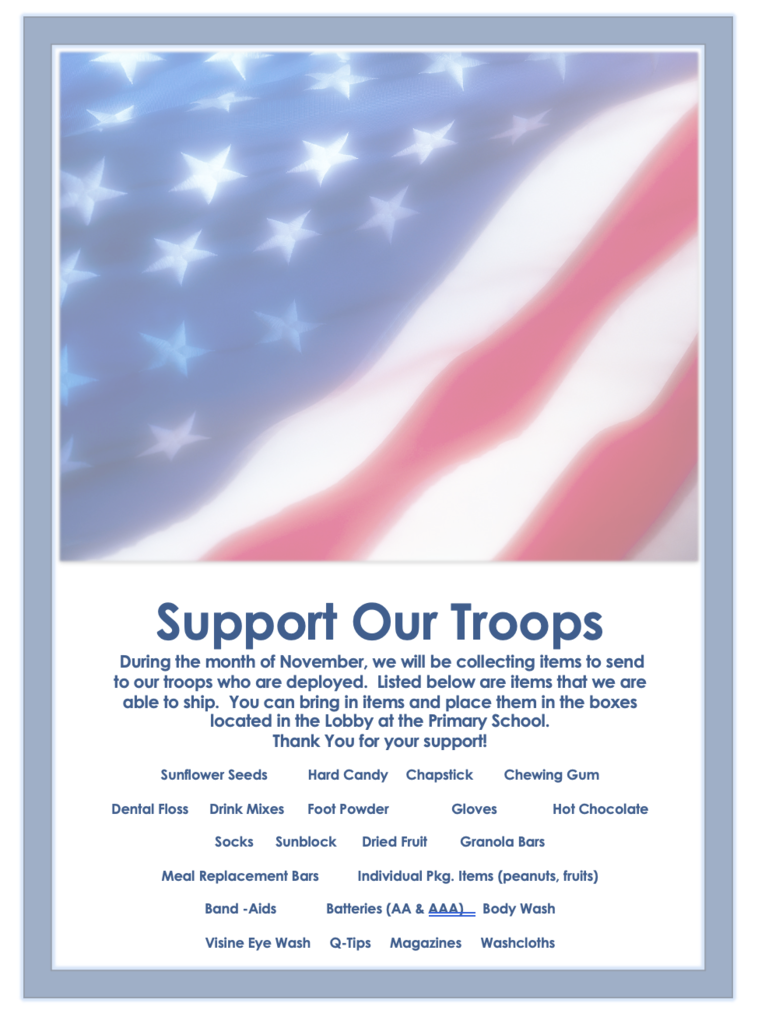 Staff Spotlight Julie Human is a 1st grade teacher and has taught in the district for past 30 years. She loves teaching with the wonderful staff at the Primary and watching her students learn to read are some of her greatest joys. "When I got married and moved to Delaware County, I couldn't bring myself to leave Galion Primary School. I have a very long drive every day, but I simply love teaching here and working the great students and families in Galion. I can't imagine being anywhere else!" Leslie Justice works in our Galion Primary food service department and she has been with the district for seven years. She loves seeing the kids at breakfast and lunch time and always has a smile on her face welcoming our students. "This is the best job I have ever had, I love it." Thank you both for all that you do!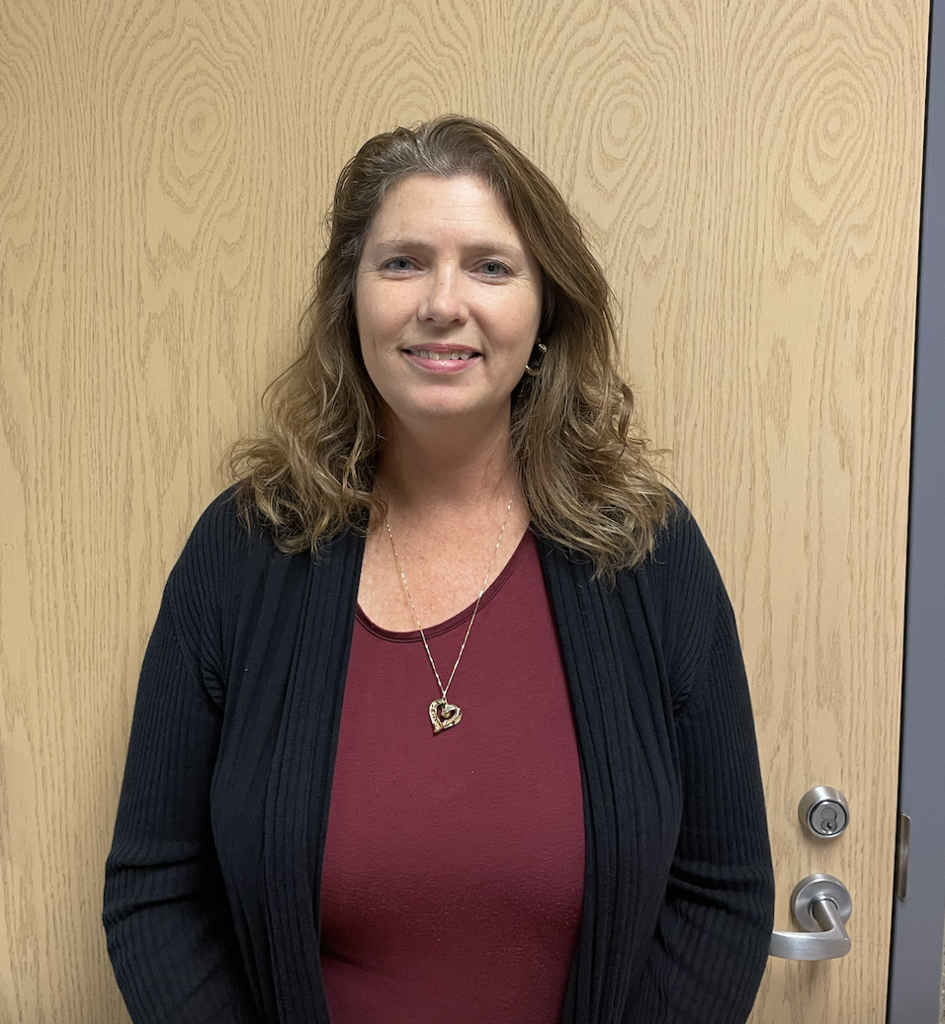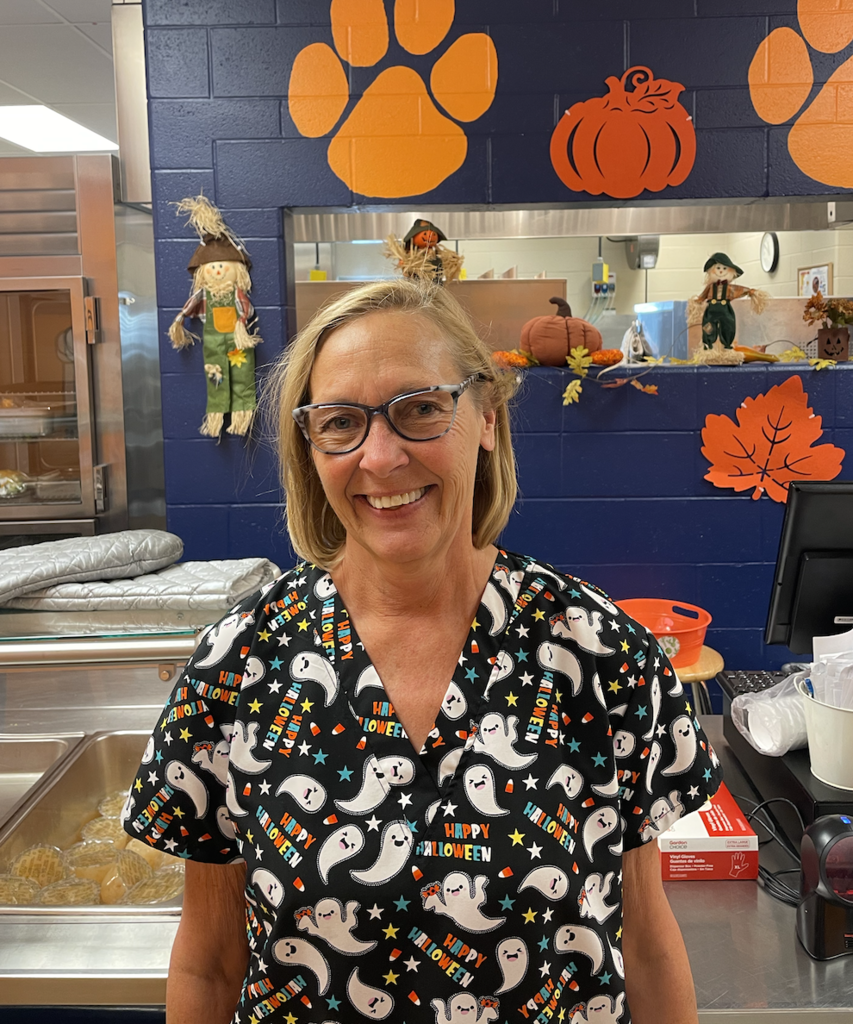 Spooktacular is back and better than ever! The GMS Lighthouse team would once again like to invite you to trick-or-treat in the halls of GMS this Thursday, October 27 from 6-7:30pm. This is for Toddlers to Grade 5. Hope to see you there.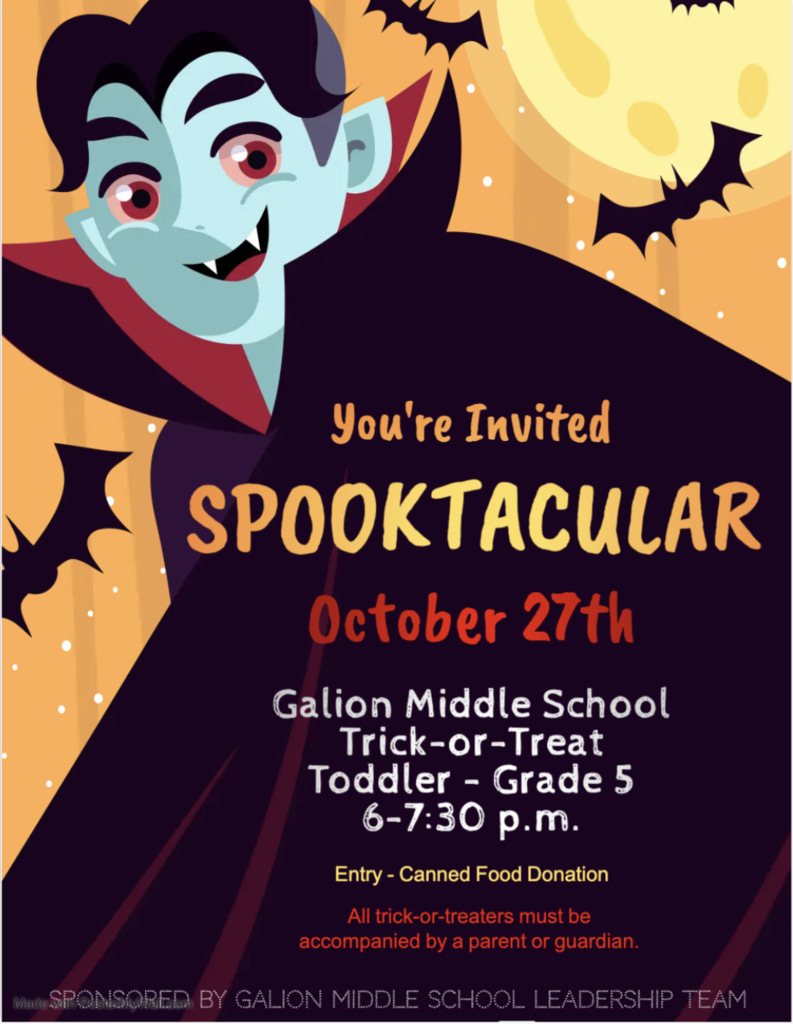 Tootsie Pop Spooky Suckers for sale next week, Oct. 24th-28th, for 50 cents each. They can be purchased each morning in the Primary cafeteria.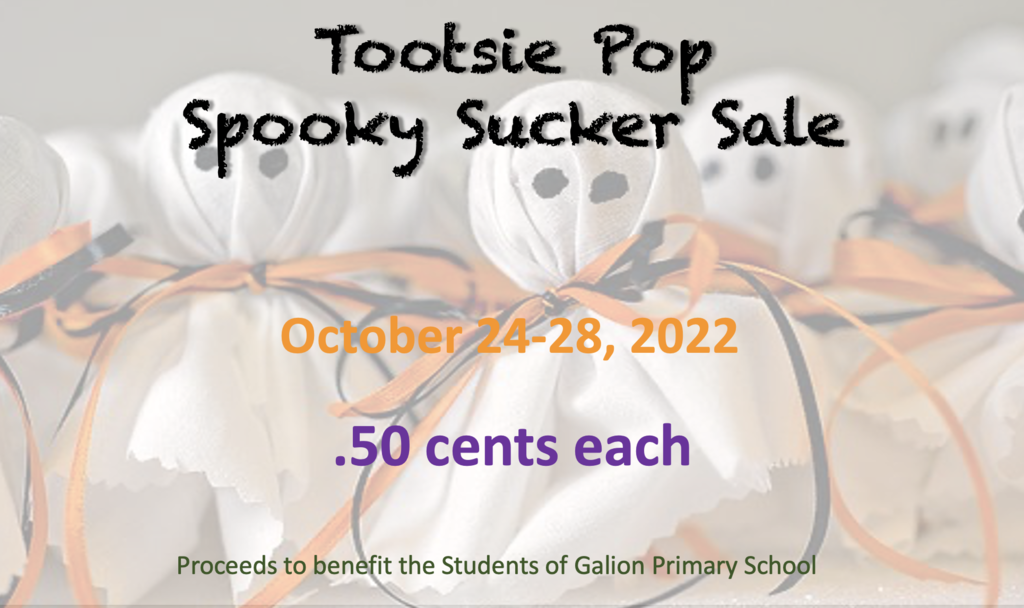 Portrait of a Tiger Monthly Primary Winner: Resilient, Liam Stitzel The Second-Grade student that most exemplifies the meaning of being resilient, is Liam Stitzel. Liam suffered a brain bleed on the evening of September 13th caused by a tumor. He then underwent surgery at Nationwide Children's Hospital to remove the tumor. Liam has since shown great resilience in trying to overcome the effects of Posterior Fossa Syndrome. He is working hard with a team of therapists to relearn how to walk, talk, eat, write, etc. Liam loves to show everyone on his medical team just how strong and smart he is. Liam may not be able to say all that he wants right now, but his smile still lights up a room and his giggles are music to the ears of his loved ones that have yet to leave his side. Although Liam has a long road to recovery ahead of him, his resilience, and intense desire to get back to school with his friends, will keep him focused on the goal ahead.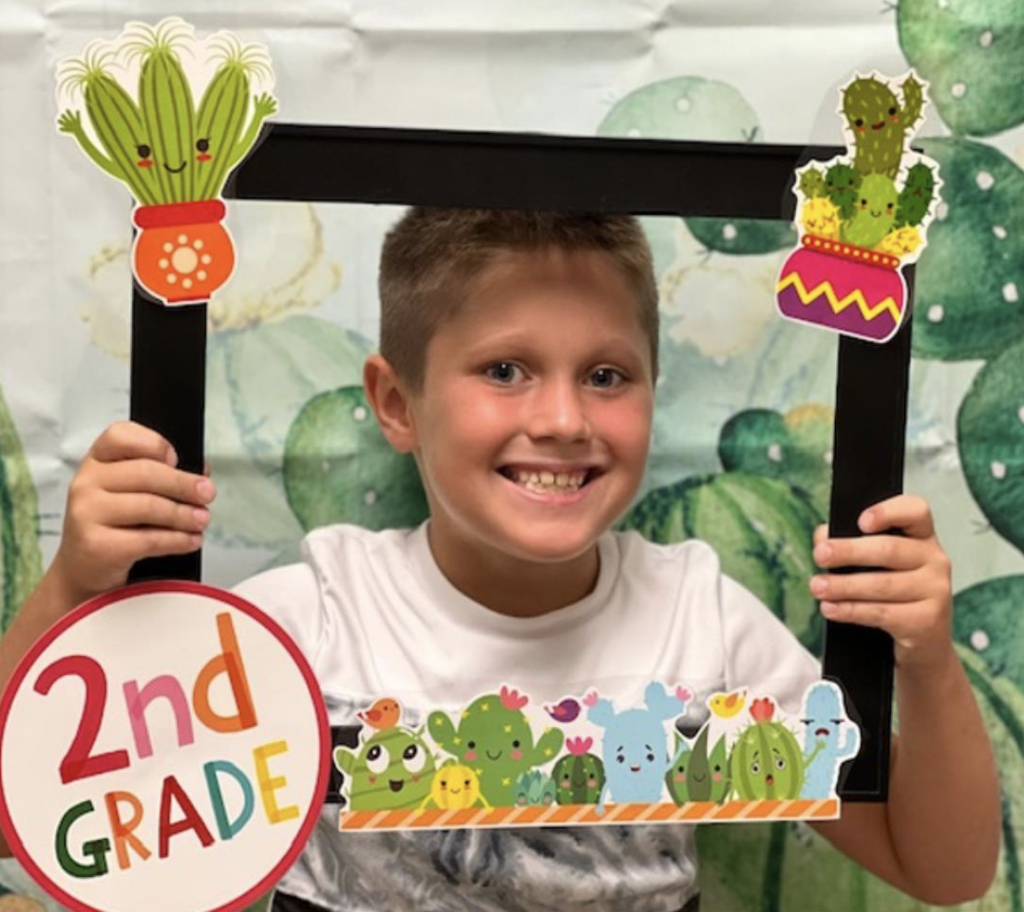 We are excited to announce that our Buddy Bench is complete and ready to be used on our Primary playground! Last years Student Lighthouse Team (current 3rd graders) raised funds to purchase a bench for students to sit on, when they are need a friend to play with at recess. Our students are taught to invite anyone who sits on the bench to play with them. This helps teach our kids about kindness and inclusion with the hope that new friendships are created on the playground. Huge thanks to Aleta Rowe, 2nd grade teacher and Student Lighthouse Team Advisor, Doug Shifley, who donated and made the bench, Issac Keinath, High School Teacher, and Xander Cooper, Galion High School Senior, who lasered the paws and words. We are so excited for this addition to our playground.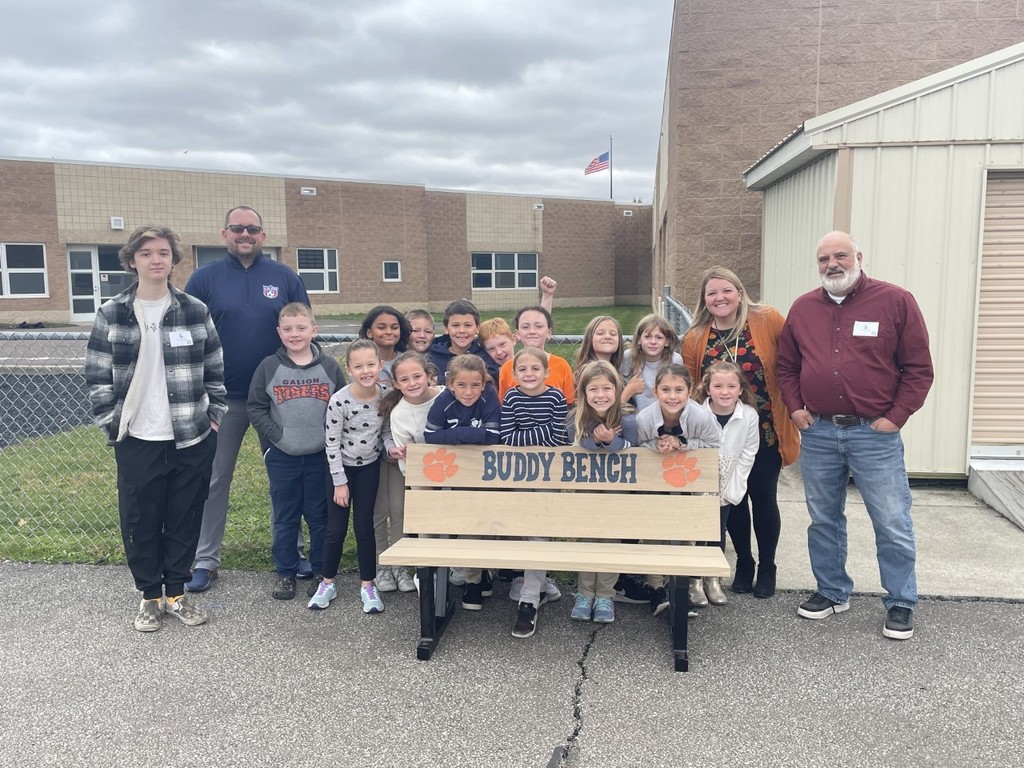 The Scholastic Book Fair will be from Oct. 19-27. See the attached schedule to see what day your student is going during school. The book fair is also open on Oct. 25th from 5-7:30 p.m. at night for families to come in a look. Check on the link for more information and possibly create a eWallet for a cash-free way for you child to shop.
https://bookfairs-content.scholastic.com/bf/galionprimaryschool
Our students are showing great growth with our new math curriculum. Pictured are students using hands on manipulatives, completing a math enrichment activity for Pick-a-Project, and being rewarded for different success criteria using our online adaptive system called Successmaker. Future mathematicians in the making! +-=